Martin Smith Pens Delirious? Autobiography
Last modified: 08 Sep 2010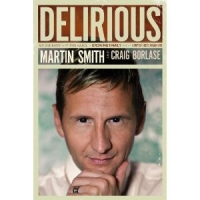 Martin Smith, the lead singer of British band Delirious? who finished at the end of 2009, has written his autobiography. The book, to be published in February 2011 is titled, 'Delirious: My Journey with the Band, a Growing Family, and an Army of Historymakers'.
The 240 page paperback book is published by David C. Cook and co-written with Delirious' long-time author Craig Borlase who also wrote the band's first book 'Purepop?' and has written numerous other books including several with Soul Survivor's Mike Pilavachi.
Last month it was revealed that Martin's wife Anna has written a book, also to be published in February 2011, titled 'Meet Mrs Smith - My Adventures with Six Kids, One "Rockstar" Husband, and a Heart to Fight Poverty'.
Delirious' career spanned 17 years and saw the British five-piece group receive unprecedented mainstream success with multiple chart singles, tours alongside Bon Jovi and Bryan Adams, TV appearances and culminating in a number 4 hit for their anthem 'History Maker' following a Facebook campaign by 65,000 fans last Easter.